11 July 2010
Almost the same breakfast every morning 🙂
took a walk down to Flinders street tram station.
and decided to bought ourself a 10 times 2 hours tram passes which are more worth it if were to buy each time we travel.
we should have bought this when we 1st arrive!! we only bought it on the 3rd day, MISTAKE!
continued our journey to hunt for parking spaces. Saw alot of interesting building structures along the street.
Public toilet.
traffice light sign.
Why?? Alot of Handky Panky stuffs happens?
hahahahahah don't drink on street but you can
Men's gallery, strip club.
Kilkenny Inn. I guess it must be full of kilkenny pint in there. *tee hee*
So Autumn.
With her.
and her. On the road doing silly stuffs.
while waiting.
Cool wannabe! haha Found a macho.
Sooooo happily in love on the street. HE's mine!!!
went to Queen Victoria Market to search for parking lots as recommended by Dave.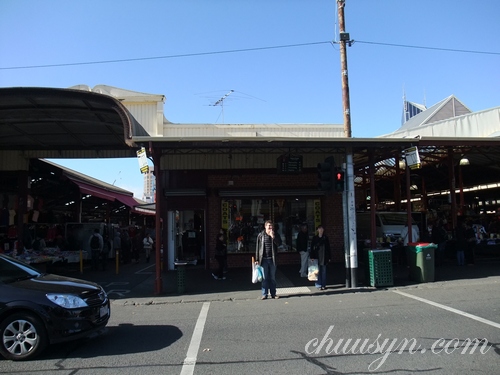 the parking rate.
After done searching, we had a date with Ming Ming. Stopped by Federation Square and spotted two huge mascot.
Reached State Library. Coolest I've seen in my life. Compare to ours back in Penang OMG!! hahahahaha
A snap shot with Sir Redmond Barry.
Huge right?
Sir Redmond Barry.
Charles Joseph La Trobe, the first lieutenant-governor of the colony of Victoria in 1846.
Hanging around while waiting for his cousin to meet us.
Reached at a 24 hours open restaurant.
A placed which serve Greek Food.
the menu
Us.
The four of us whom flew thousand miles away from home to explore Melbourne.